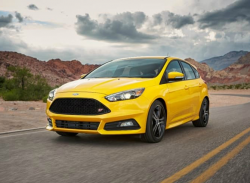 — A Ford Focus canister purge valve recall has been issued a second time following an identical recall in October 2018 to repair deformed gas tanks.
Customers of 2012 and 2017 Ford Focus and 2013-2014 Focus ST cars report illuminated warning lights, erratic fuel gauges and cars that lose motive power.
The 2018 Focus canister purge valve recall included about 1.5 million cars, but the latest recall affects about 57,400 vehicles in the U.S., 400 in Canada and approximately 480 in Mexico.
The 2012 and 2017 Focus cars are equipped with 2-liter GDI engines and the 2013-14 Focus ST cars are equipped with 2-liter GTDI engines.
The automaker says the powertrain control module software used to repair the cars during the 2018 recall wasn't complete because the cars didn't receive calibration software that will detect malfunctioning canister purge valves.
Ford says excessive vacuum can develop in the fuel vapor management systems when the canister purge valves are stuck open. This is when customers experience the erratic fuel gauges and other symptoms of problems.
Any Focus cars that haven't had repairs made from the original 2018 canister purge valve recall are not affected by this recall.
The 2012 and 2017 Focus cars were built from October 7, 2010, to July 23, 2012, and between August 24, 2016, and April 13, 2017. The 2013-14 Focus ST vehicles were manufactured from May 3, 2012, to December 11, 2014, and all the recalled cars were built in Michigan.
According to Ford, no crashes or injuries have been reported, but Ford dealers will still need to reprogram the powertrain control modules and possibly replace the Focus canister purge valves. If the canister purge valve is replaced, the dealer will inspect and replace the carbon canister, fuel tank and fuel delivery module.
Ford recommends Focus drivers keep the gas tanks at least half full until the cars are repaired.
If you are included in the Ford Focus canister purge valve recall and have questions, call 866-436-7332 and ask about recall number 19S22.
CarComplaints.com has owner-reported complaints about Focus cars: