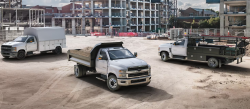 — GM trucks may have brake pressure sensor problems that can cause fires while the trucks are in motion or parked.
General Motors has recalled 2019-2023 Chevrolet 4500HD, 5500HD and 6500HD trucks, and owners are warned to park outside and away from flammable objects.
More than 40,000 trucks are recalled because the brake pressure sensor assemblies can leak brake fluid into the brake pressure switch. GM found this will cause a short-circuit which can cause fires.
GM opened an investigation in August 2022 following a claim of a vehicle fire on a 2019 Chevrolet Silverado trucks. GM worked with Navistar which manufactured the trucks and looked into warranty claims for the brake pressure sensors.
Engineers were unable to replicate the problem, but in January 2023 a returned sensor and harness showed signs of heat damage. Several tests, including x-rays, showed brake fluid that went past the diaphragm seal and into the brake pressure switch and through the wire harness into the pump's fuse circuit.
It was also determined there was delamination of the sealant used to protect against corrosion which allowed slow seepage of the brake fluid past the diaphragm seal.
General Motors says it is aware of 21 complaints, 11 which allege flames, smoke or fires. However, there are no crash or injuries reports regarding the sensors and harnesses.
"If brake fluid shorts the brake pressure switch and the associated fuse, the circuit can generate excessive heat that could result in a fire, increasing the risk of injury. An underhood fire may occur when the vehicle is off and possibly unattended." — GM
GM dealers are not ready to repair the trucks, so interim recall letters will be mailed at the end of May 2023, and second recall letters will be mailed once GM dealers have the required parts.
Dealers will replace the master cylinder pressure sensors, and if needed the wire harnesses will also be replaced.
Chevrolet 4500HD, 5500HD and 6500HD owners with concerns may contact Chevrolet at 800-222-1020 and ask about recall number N222375270.