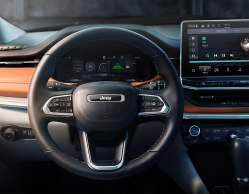 — A Jeep Compass recall involves 182,000 SUVs because of problems with the instrument panels which may not allow drivers to adjust the brightness levels.
But 2022-2023 Compass vehicles may have the wrong software in the body control modules.
According to federal safety standards, the instrument panel cluster must have controls and indicators which, "[m]ust be adjustable to provide at least two levels of brightness."
FCA learned about the problem in April when Jeep Compass center cluster displays lost their ability to adjust the backlights. Engineers determined the problem was caused by a "vehicle build issue."
Chrysler dealers will update the body control module software once Jeep Compass recall letters are mailed October 3, 2023.
Jeep Compass owners with questions should call 800-853-1403. FCA's number for this Jeep Compass recall is 88A.
Mopar Body Control Module Recall
In a separate recall, Chrysler has recalled about 350 Mopar body control modules with these part numbers.
68497537AG
68497538AG
68628390AC
68497538AF
68628390AB
Dealers will repurchase the body control modules, but customers may call 800-853-1403.