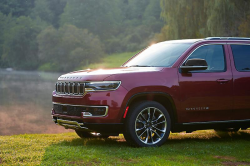 — A 2022-2023 Jeep Wagoneer and Jeep Grand Wagoneer recall includes more than 44,000 SUVs at risk of suffering side curtain airbag problems.
Fiat Chrysler says the upper B-pillar interior trim may not be fully in place and could interfere with the side curtain airbag deployment.
Along with not protecting occupants in a crash, the side airbag inflatable curtain (SABIC) problems also violate federal safety standards.
FCA learned in June 2022 about possible problems with the Jeep side curtain airbags, with reports alleging problems with the upper B-pillar trim.
In June 2023, engineers confirmed the Jeep Wagoneer trim was not installed correctly.
Occupants may notice loose trim or hear rattle sound in the B-pillar.
FCA expects to mail Jeep Wagoneer and Grand Wagoneer recall letters September 22, 2023.
Jeep dealerships will possibly reseat or replace the trim.
Jeep Wagoneer owners with questions should call 800-853-1403 and ask about Jeep recall number 76A.