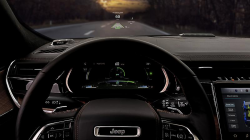 — Jeep Grand Cherokee and Jeep Grand Cherokee L owners who learned about a recall about a week ago will also soon receive notices about a second recall involving 2022-2023 Jeep Grand Cherokee and 2021-2023 Jeep Grand Cherokee L vehicles.
Earlier in May, Fiat Chrysler recalled Jeep Grand Cherokee and Grand Cherokee L vehicles because the airbag warning labels were missing.
This second Jeep recall involves nearly 90,000 Grand Cherokees at risk of losing their steering controls.
FCA says the Jeeps may have an incorrectly assembled steering column intermediate shafts which may disconnect from the U-joints. This could cause a Grand Cherokee or Grand Cherokee L driver to lose steering control.
FCA opened a Jeep Grand Cherokee investigation in February due to a report about a 2023 Grand Cherokee that lost steering control. Chrysler looked at warranty claims and other records and found the Jeeps may have been improperly repaired on the assembly line.
This caused failures to properly install the steering column intermediate shafts.
As of April 26, 2023, FCA US is aware of 15 warranty claims but the automaker isn't aware of any field reports, crashes or injuries.
A Jeep driver may notice play in steering and/or noise when turning prior to the intermediate shaft disconnecting.
Chrysler expects to mail Jeep recall letters July 7, 2023. Dealerships will possibly replace the intermediate shafts and assembly parts.
Jeep Grand Cherokee and Grand Cherokee L owners may contact FCA at 800-853-1403 and ask about recall reference number 58A.