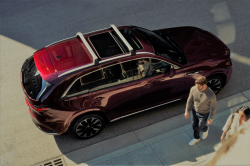 — A 2024 Mazda CX-90 recall is necessary because of possible problems with the pedestrian alert systems.
About 17,600 Mazda CX-90 SUVs are recalled in the U.S. because the pedestrian alert system warning sounds driving in REVERSE may be activated in any gear other than REVERSE.
The system alerts pedestrians in the vicinity of the Mazda CX-90 by activating an alert sound while the SUV is driven at a low speed.
There is something called the Mazda CX-90 "AVAS [Acoustic Vehicle Alerting System] ISB" amplifier which controls the warning sound for driving in REVERSE.
But missing software can cause problems, especially when the gear selector lever is moved quickly through various gears.
Mazda says CX-9 drivers won't have any warning before the problem occurs.
To date, Mazda isn't aware of any crashes or injuries relating to the alert system sound issues.
Owners of 2024 Mazda CX-90 SUVs may call 800-222-5500. The Mazda CX-90 recall number is 6123H.
The 2024 Mazda CX-90 was also recalled in June, although the recall involved just 18 SUVs for missing bolts for the steering intermediate shafts.