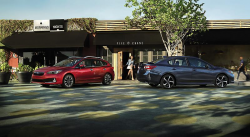 — Subaru is recalling its 2023 Impreza because the brake lights may stay on even when the brake pedals aren't in use in more than 4,000 Imprezas.
Subaru says an improper gap between the brake light switch and the stopper may cause the brake lights to illuminate without touching the brake pedal.
This will be very confusing to other drivers.
In addition, it may be possible for a someone to start and shift the transmission out of PARK without pressing the brake pedal. This can allow the Impreza to roll away.
The problem occurred when the brake pedal assemblies were built and the brake light switch wasn't properly adjusted to allow the specified gap between the switch and the stopper.
In February, Subaru received a report about Impreza brake lights that remained on. Engineers investigated and determined stop light switch wasn't adjusted properly.
Subaru is aware of four technical reports and one warranty claim in the U.S. between February 17, 2023, and April 18, 2023. Subaru is not aware of any crashes or injuries resulting from the neverending illuminated brake lights.
Subaru corrected the condition in the Impreza manufacturing process on March 21, 2023.
Subaru Impreza recall letters should be mailed June 23, 2023, then dealerships will inspect the gaps between the brake light switches and stoppers, adjusting the switches as necessary.
Subaru Impreza owners may call the automaker at 844-373-6614. Subaru's brake light switch recall number is WRI-23.