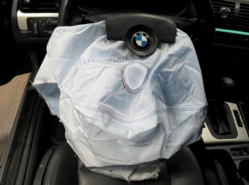 — BMW and the National Highway Traffic Safety Administration are warning owners of older BMW models to stop driving the vehicles until the driver's side Takata airbag inflators are replaced.
Calling this an "urgent, lifesaving recall" of the "most dangerous" BMW vehicles, about 90,000 of these vehicles should be parked and stay parked until they are repaired, unless the airbag inflators have already been replaced by dealers.
2000-2006 BMW 3 Series (E46) including M3
2000-2003 BMW 5 Series (E39) including M5
2000-2004 BMW X5 (E53)
The 90,000 BMW vehicles were previously recalled because of their dangerous Takata airbags, but owners continue to ignore the obvious threat.
The Takata airbag inflators are deadly because they can explode when the airbags deploy. In some cases simple fender-benders have killed occupants when the Takata airbag inflators exploded and sent shards of metal into occupants.
As an example of a fatality in a 2004 BMW 3-Series vehicle and how owners should get their vehicles repaired, federal safety investigators described the driver's injuries:
"The air bag inflator ruptured during deployment. At least three metal fragments displaced from the area of the metal inflator cap of the inflator were recovered following the crash. Police responding on-scene found two fragments measuring 5 x 3 cm (2.0 x 1.2 in) located inside the deployed air bag. The third fragment identified by Takata as a booster tube and measuring 4 x 3 cm (1.6 x 1.2 in) in size passed through the air bag fabric."
BMW owners need to wake up to the deadly dangerous mistake of ignoring these recalls, as can be seen in NHTSA's official report of the 2004 BMW airbag fatality.
"It [the metal fragment] penetrated and entered the driver's abdomen, causing lacerations to the stomach, small bowel, liver, right kidney, inferior vena cava, and right psoas muscle, with associated extensive intra-abdominal hemorrhage. The fragment was recovered by the medical examiner from the soft tissue of the driver's back during the autopsy."
The BMW vehicles are 17 to 22 years old and NHTSA says the risk to occupants is "dire."
Even the smallest bump to the vehicle can cause the metal airbag inflator to explode and send shrapnel into occupants. Some occupants lived through the ordeal only to be left with life-changing injuries.
NHTSA and BMW warn owners to stop driving the vehicles and contact BMW to have the vehicles towed to dealers. BMW technicians will even come to you to perform mobile repairs. BMW also says plenty of replacement airbags and inflators are available, and none of this will cost an owner a cent.
Find your BMW vehicle identification number (VIN) and visit NHTSA's recall site or BMW's recall site.