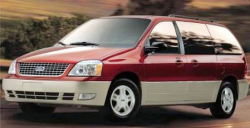 — Ford 2004 Freestar and Mercury Monterey minivans are the focus of an investigation of alleged rust problems that could possibly cause the rear seats to detach.
Federal investigators said the problem could affect over 82,000 vehicles, all of which are no longer in production.
According to the National Highway Traffic Safety Administration's Office of Defects Investigation, most of the complaints are from vehicle owners in salt belt states where products used to control ice can cause damage to vehicles, especially wheel wells.
Officials want to confirm allegations that severe corrosion at the rear wheel wells can cause difficulty or inability to latch the rear seat, and in some cases cause the entire anchor plate to completely detach from the vehicle.
In addition to the subject vehicles, the Office of Defects Investigation will collect and review information on 2005-2007 Freestar/Monterey vehicles that appear to have a seat design identical to the subject vehicles.