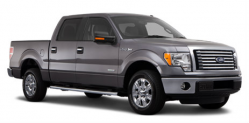 — Add another company to the long recall list of vehicles with problems related to air bags.
The National Highway Traffic Safety Administration (NHTSA) has announced a recall of select 2012 Ford F-150's made between November 6 and November 15, 2011.
The NHTSA says incorrect software for the occupant classification system module (OCSM) can, under certain conditions, misclassify the passenger seat's occupant in a way that the passenger side air bag does not inflate when it should. In other cases, the air bag can inflate when it shouldn't.
Kind of defeats the whole purpose of an air bag, doesn't it?
As you can imagine, any of these scenarios can cause a big problem for you or your family. Ford says the problem should apply to only 101 trucks, which is not a problem unless you happen to be one of the 101 owners.
Ford says their dealers will start to replace the OCSM (free of charge) on or about May 21, 2012. Prepare yourself to listen to voice prompts for all of Ford's other recalls when you call them at 866-436-7332.