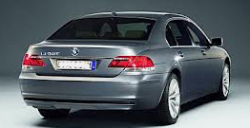 — BMW is recalling certain model year 2005-2008 7-Series vehicles equipped with the comfort access option. The affected vehicles were manufactured August 23, 2004, through July 24, 2008, and include the 2005 BMW 745I, 2005 BMW 745LI, 2006-2008 BMW 750I, 2006-2008 BMW 750LI, 2005-2006 BMW 760I, and the 2005-2008 BMW 760LI. (Read reviews about BMW vehicles)
These vehicles have an electronic key and an electronic connection between the gear shifter and the transmission that automatically shifts the transmission to "Park" when the driver presses the Start/Stop button to shutdown the engine.
BMW says if the driver presses the Start/Stop button two or three times within a short time interval, the system may shift the transmission to neutral rather than park.
If using the electronic key, there would be no protection from the ignition interlock that prevents key removal if the vehicle is not in park. Translation: Your vehicle could roll away.
BMW will notify owners in November, 2012, but will not have software to fix the vehicles until March, 2013.
Owners should call BMW at 800-525-7417 or the National Highway Traffic Safety Administration's Vehicle Safety Hotline at 888-327-4236.
This is the second recall in less than a week involving BMW 7-Series vehicles. A few days ago, BMW announced a recall due to a software error that could cause doors to inadvertently open.