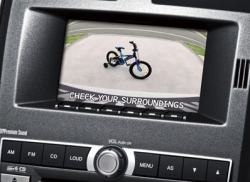 — Approximately 45 percent of new vehicles have rear-view cameras to help a driver see what's immediately behind them when the vehicle is in reverse.
If the National Highway Traffic Safety Administration gets their way, a new rule will be in place by the end of 2012 that will mandate every new vehicle include rear-vision cameras.
Rear-view cameras are the favored choice to decrease the number of children and older adults killed in backover accidents. According to researchers, backover injuries are more common in those younger than 5 years and older than 70 years.
As for children, the Centers for Disease Control and Prevention says that a parent is the driver 57 percent of the time.
The feds believe cameras could save about 100 lives a year, at a cost of $2.7 billion to automakers.
Backover accidents can occur when an object is in the "blind zone" of the driver.
Blind zones can exist based on everything from the size of the car to the size of the driver.
One assumption was that because of the large number of tall vehicles such as SUVs and minivans, a proportional increase in the number of backover incidents would occur.
However, researchers have found no increase in these accidents, even when the number of SUVs increased by 55 percent and minivan ownership went up 24 percent.
Any vehicle will have blind zones, but if rear-view cameras are the answer remains to be seen.
One thing is sure. Other types of alarms haven't done well in studies.
One study showed that ultrasonic and radar sensors typically performed poorly in detecting a child behind the vehicle.
As for audible-only alarms, research shows that if drivers cannot visually confirm a threat about which they are warned, they have a tendency to ignore the warning.
In another study, when drivers did not expect an obstacle behind the vehicle when the vehicle was put in reverse, the driver always hit the object because they ignored audible and visual alerts that were provided.
Researchers also say that false alarms can make a driver begin to ignore the vision screen.
In testing, a rear-view camera set off alarms on a garden hose, construction materials, pallets, landscaping timbers, tree stumps, toys, cracks in driveway surface, curbs, guttering, and wood piles.
Another concern is rain, fog, and other kinds of weather that can significantly reduce the ability to show drivers a clear view of objects in the blind zone in back of the vehicle.
Even in clear daytime conditions, objects in the camera display may be difficult to see due to glare from the sun.
As for backover accidents that tragically take place at home, a rear-view camera won't be the answer to prevent all incidents.
In one study of 51 driveway accidents, 19 of the people struck by a backing vehicle came as a result of a child knocking the car out of gear. No camera on earth will prevent those incidents.
If backup cameras become mandatory, expect to pay about $200 more on your next new-vehicle purchase.