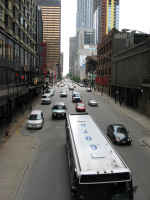 — A new study from the Centers for Disease Control and Prevention (CDC) says you're less likely to be involved in a fatal vehicle crash if you're traveling in a city, compared to a non-metropolitan area.
According to the CDC, the overall crash death rate for 50 metropolitan areas combined was 8.2 per 100,000 residents, compared with a national rate of 11.1.
For persons aged 15–24 years, the traffic death rate was 13.0 per 100,000 residents for all metropolitan areas combined compared with a national rate of 17.3.
Residents of the metropolitan statistical areas represented 54 percent of the U.S. population, while accounting for only 40 percent of all traffic crash deaths.
In 2009, a total of 34,485 deaths were reported among U.S. residents, and 22 percent of those who died were aged 15–24 years.
Researchers said the variation in crash death rates among metropolitan statistical areas suggests a need to better understand the influence of urban development patterns and urban sprawl.
The CDC report comes at the same time a government report said traffic fatalities have increased in the first quarter of 2012.