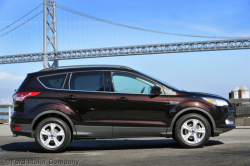 — It hasn't been a good month for the Ford Escape. First there was news the government was petitioned to investigate alleged accelerator problems on over 300,000 Escapes.
Now comes word that Ford is recalling certain model year 2013 Escapes due to mispositioned carpet padding.
According to the National Highway Traffic Safety Administration, the faulty padding placement can cause the center console trim panel to push out of the intended position and reduce clearance to the pedal package.
This can result in your foot smacking the side of the brake pedal when trying to switch from the gas pedal to the brake pedal.
That little delay in reaching the brake could cause all kinds of havoc.
Your dealer will remove the carpet padding and left-side console trim panel to replace the panel. No word on how long that litte repair will take out of your busy day.
The recall should begin about July 23, 2012, but you can contact Ford now at 866-436-7332.