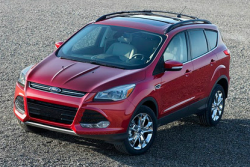 — Ford Motor Company has announced that drivers of the 2013 model year Ford Escape equipped with a 1.6-liter engine should immediately park their vehicles due to a risk of engine fire.
Ford said the engine compartment fuel line could split and leak fuel, which could cause the SUV to go up in smoke.
The affected vehicles are equipped with the 1.6L EcoBoost engine and total about 11,500 vehicles in the U.S. and Canada. The problem doesn't affect other Escape models.
Not only has Ford made the extraordinary announcement to stop driving the vehicle, but they are offering to deliver a loaner vehicle to affected customers at no charge.
"We have identified an issue and are taking quick actions in the best interest of our customers," said Ray Nevi, assistant director, Ford Automotive Safety Office. "Our intensive investigation and testing has identified the area of concern and we are moving as quickly as possible to repair vehicles for our customers. In the meantime, it is extremely important that affected customers not ignore this recall and immediately contact their dealer."
Your Ford dealer will will bring you a loaner vehicle, transport your Escape back to the dealership, and you'll be notified when the repairs are finished.
Ford does have some concern about how quickly they will be able to get the needed parts to all their dealers. However, you'll get to keep the loaner vehicle no matter how long it takes your dealer to make the repairs.
Ford hasn't had a good month concerning their Escape models.
First there was news that Ford was recalling 2013 Ford Escapes because of carpet padding issues.
On July 17, The National Highway Traffic Safety Administration announced they had opened an evaluation of Ford Escapes due to sticky throttles.