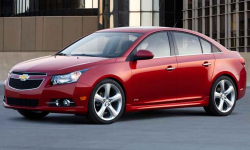 — About a week ago, CarComplaints.com told you about the government expanding their probe into alleged fire hazards in the 2011-2012 Chevy Cruze. It looks like General Motors was taking the investigation pretty serious because GM has announced a recall of 413,418 Cruzes in the United States for model years 2011 and 2012.
The National Highway Traffic Safety Administration (NHTSA) was investigating after two Cruze owners reported their cars were destroyed by fires.
The federal investigation was looking into the possibility the fires were caused either by wires overheating or with a module that controls the transmission.
But according to a statement from GM, they don't necessarily believe it's a wiring problem.
"Improper engine oil change procedures on these vehicles can result in the spilling or dripping of oil. If oil contacts hot engine or exhaust system surfaces, and the engine shield, the shield may ignite and burn, resulting in a possible engine compartment fire."
GM also says in Cruzes with manual transmissions, continuing to drive with a completely worn clutch may cause hydraulic fluid to be expelled from the clutch housing vent hole.
Under certain circumstances, the fluid could be burning as it exits the vent hole. If it contacts the engine shield, the shield may ignite and the next thing you'll see is fire leaping from the engine compartment.
GM will modify the engine shield under the vehicle. Or at least, for the first recall.
They have also announced a second Cruze recall where GM will inspect certain cars included in the first recall to make sure all welds in the rear compartment were properly applied.
Omitted or partially completed welds in up to 249 cars may affect the fuel tank strap secondary brackets attachment to the floor structure and a sub assembly to the rear floor pan.
What does that mean?
It means you'll have to make an appointment with your dealer, wait at least 30 minutes for them to fix the engine shield, then wait for the inspection of the weld problem. If a problem is found with the weld, you're looking at another 3 hour wait.
"The most important thing for our customers to know is that we are proactively working to assure the Cruze is the safe and durable car they purchased," said GM vice president of Global Quality Alicia Boler-Davis. "We are sorry for any inconvenience caused by these actions."