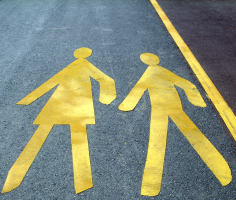 — Pedestrian deaths are a major problem in the U.S., especially in urban areas.
Recent statistics from the National Highway Traffic Safety Administration show pedestrian fatalities across the nation rose by 4 percent in 2010, with 4,280 pedestrians killed in traffic accidents.
Drunk pedestrians total almost half those killed, so it's clear that drivers need to be better aware of their surroundings.
General Motors hopes a new driver assistance tool will potentially help drivers detect pedestrians and bicyclists, including on congested streets or in poor visibility conditions before the driver even notices them.
GM calls it Wi-Fi pedestrian detection technology, but there's a catch.
The pedestrian must be carrying a smartphone because the detection system uses a peer-to-peer wireless standard that allows smartphone devices to communicate with one another.
The warning could activate in one second because it doesn't travel through a cell phone tower.
GM is also working on a free app to be downloaded by bike messengers and construction workers to help vehicles identify them.
Based on the diagram provided by GM (below,) it's questionable how many false alarms would occur due to smartphone users located within the signal frequency area.
In the GM diagram, most of the pedestrians are conveniently located just outside the signal area, other than the pedestrian walking in front of the car.