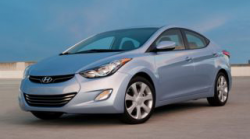 — The Office of Defects Investigation (ODI,) a part of the National Highway Traffic Safety Administration, has opened an investigation into possible air bag problems in the 2012 Hyundai Elantra.
The investigation is based on an incident of a driver-side air bag that deployed during a crash.
According to investigators, a metal bracket (stiffener) in the headliner assembly detached and was forced downward by the air bag. The metal bracket caused a laceration to the driver's ear and other possible injuries.
The investigation includes 75,000 Elantra vehicles built in Korea and sold in the U.S. These vehicles have stiffeners in the headliners, while the 2012 Elantra vehicles built in the U.S. do not use a stiffener.
An engineering analysis has been opened to examine whether incidents like this could occur with other 2012 Korean-built Elantra vehicles.
In addition, ODI will collect and review information on 2011 and 2013 Elantra vehicles that have headliners with stiffeners similar to those in the subject vehicles.