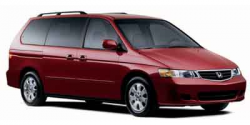 — If you drive a 2003-2004 Honda Odyssey or Honda Pilot, be careful that your vehicle doesn't roll away on it's own after you park it, or you think you have parked it.
The federal Office of Defects Investigation has opened an investigation into complaints alleging failures of the ignition cylinder park-shift interlock feature that allowed the ignition key to be removed without the transmission being shifted to "PARK."
Twenty-six of the complainants claim their vehicles rolled away, including 16 owners who said their vehicles only stopped when they finally hit an object. Those objects include fences, a tree, a pole, a landscape retaining wall 600 feet away and a brick mailbox that was struck after the vehicle rolled for 2 blocks.
Some complainants allege that their vehicles came to rest after hitting multiple parked cars.
One owner said she was knocked down as she tried to get into her vehicle to stop it as it rolled away. Another driver reported having hurt her knee when she tried to stop her vehicle from disappearing down the street.
One complainant reported that while attempting to stop a 2003 Odyssey from rolling away they were knocked down and their left leg was run over. That incident caused a fracture to the leg.
The government investigation will try to determine what is causing owners to scramble down the street after their vehicles. A recall could eventually be ordered once the investigation is complete.
News of the investigation couldn't have arrived at a more lousy time for Honda owners. Along with this investigation, Honda announced a recall of 268,000 CR-V vehicles because of a fire risk, and a recall of 573,000 Accords because of a leaky power steering hose.