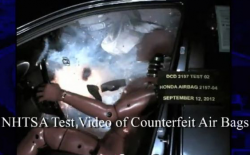 — The National Highway Traffic Safety Administration (NHTSA) has issued a consumer safety advisory to alert vehicle owners and repair professionals to the dangers of counterfeit air bags.
NHTSA has become aware of a problem involving the sale of counterfeit air bags for use as replacement parts in vehicles that have been involved in a crash. While these air bags look nearly identical to the real thing—including the insignia and branding of major automakers—testing showed consistent malfunctioning ranging from non-deployment of the air bag to metal shrapnel flying around during deployment.
NHTSA has identified certain vehicle makes and models for which these air bags may be available. Only vehicles which have had an air bag replaced within the past three years by a repair shop that is not part of a new car dealership may be at risk.
Consumers whose vehicles have been in a crash and had their air bags replaced by a repair shop that is not part of a new car dealership within the past three years or who have purchased a replacement air bag online should contact the call center that has been established by their auto manufacturer to have their vehicle inspected at their own expense and their air bag replaced if necessary.
Click here for a list of manufacturer call centers.
"Anytime equipment that is critical to protecting drivers and passengers fails to operate properly, it is a serious safety concern," said Transportation Secretary Ray LaHood. "We want consumers to be immediately aware of this problem and to review our safety information to see if their vehicle could be in need of inspection."
NHTSA has been working with the U.S. Immigration and Customs Enforcement, U.S. Customs and Border Protection and the U.S. Department of Justice to understand the issue of counterfeit air bags and how to prevent them from being purchased and installed in vehicles.
"Organized criminals are selling dangerous counterfeit and substandard airbags to consumers and suppliers with little to no regard to hazardous health and safety consequences," said ICE Director John Morton. "We will continue to aggressively investigate criminal supply chains with our law enforcement and private industry partners and bring these criminals to justice."
Video of counterfeit air bag. Take special note of the second air bag deployment.