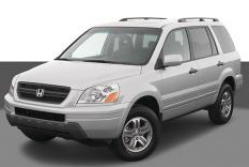 — The federal government has opened an investigation into stability and braking problems in the 2005 Honda Pilot. The National Highway Traffic Safety Administration says they know of 185 incidents of unexpected braking, including several complaints of drivers traveling from highway speeds to near stops without warning.
According to official documents, complaints of unexpected braking in the Honda Pilot appear to be related to inappropriate activation of the brake assist function.
One Pilot driver said the vehicle was traveling at highway speeds when suddenly the vehicle violently jerked forward three times and came to a complete stop on the highway. The driver said although their foot was on the accelerator, it was like their foot had actually stomped on the brake pedal three times.
Safety officials are also concerned about reported steering problems in the Pilot.
A Florida driver complained to CarComplaints.com that both his steering and brakes would act up when the temperature was above 88 degrees.
"The VSA light and warning light come on with a minute of the first movement of the vehicle. When the light comes on there is a loud clunk noise and the brake and steering for a fraction of a second locks. One time it happened when I was in a turn and almost hit a wall."
Both the brake and steering issues will be evaluated to determine if a full recall should be ordered.
This is the second time this month the government announced an investigation into the Honda Pilot. Earlier this month, the National Highway Traffic Safety Administration said the Pilot was under scrutiny due to complaints about the vehicle rolling away, even though it was in "Park."