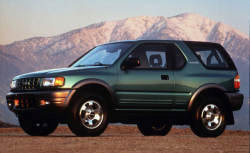 — Isuzu is recalling certain model year 1998-2000 Amigo and 2001-2002 Rodeo Sport vehicles that were originally sold, or currently registered in Maine, New Hampshire, Vermont, Massachusetts, Rhode Island, Connecticut, New York, New Jersey, Pennsylvania, Delaware, Maryland, DC, West Virginia, Ohio, Indiana, Michigan, Illinois, Wisconsin, Minnesota, Iowa, Missouri, and Kentucky.
According to the National Highway Traffic Safety Administration, the vehicles may experience severe corrosion around the forward mounting point bracket for the left or right rear suspension lower link.
This could cause the bracket to detach from the frame, and if that happens you'll know it because the vehicle might be impossible to handle. Your dealer will determine the best course of action after inspecting your vehicle.
If little or no corrosion is found, your dealer will treat the area with an anti-corrosive compound.
If your dealer finds the area has been damaged, they will install a reinforcement bracket.
If it's determined the bracket won't be enough, Isuzu will offer to purchase your vehicle based on the Kelley Blue Book private party price.
All inspections and remedies will be provided free of charge for vehicles that are 10 years old or less.
For vehicles older than 10 years, you'll still get it fixed free, but only if the vehicle is brought to an Isuzu dealer within 12 months of when owner notifications were issued.
Keep an eye out for your notice. The recall is expected to begin late July, 2012. You can contact Isuzu at 1-800-255-6727.