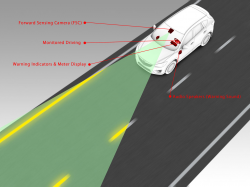 — Following news that complaints have increased about in-vehicle technology, now there is news that a system meant to decrease injuries and insurance claims actually increases both.
According to research from the Highway Loss Data Institute, lane departure warning systems from Buick and Mercedes were associated with increased claim rates under collision and property damage liability coverages and for injuries to occupants.
While automakers continue to manufacture vehicles more akin to space shuttle technology than a consumer mode of transportation, researchers said the results suggest these particular systems aren't reducing overall crashes.
Lane departure warning systems use cameras to track lane markings, but researchers question what good that is if the markings aren't clearly visible or if the road has no markings.
"Lane departure warning may end up saving lives down the road, but so far these particular versions aren't preventing insurance claims," said Matt Moore, vice president of Highway Loss Data Institute, an affiliate of the Insurance Institute for Highway Safety.
"It may be that drivers are getting too many false alarms, which could make them tune out the warnings or turn them off completely. Of course, that doesn't explain why the systems seem to increase claim rates, but we need to gather more data to see if that's truly happening."