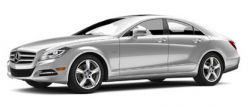 — Mercedes-Benz is recalling specific 2012 CLS550 and CLS550 4Matic vehicles because the bolts that hold the hood's secondary latch striker may not be tightened.
Mercedes-Benz said the affected vehicles were manufactured December 1, 2011, through December 13, 2011.
According to documents filed with the National Highway Traffic Safety Administration, if two of the four bolts became loose, the secondary hood latch function would fail. If both the primary and secondary latch fails, the hood could fly open while you're driving down the road.
The recall is expected to begin in December, 2012. Dealers will check the bolts to assure everything is safe and secure.
If you have questions, contact Mercedes-Benz at 800-367-6372.