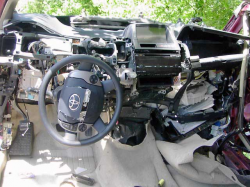 — Car manufacturers love awards, but being listed among the most dangerous cars in America is no distinction that any automaker wants. But that's just what some vehicles got labeled after a report from 24/7 Wall St., a website known more for its financial analysis than for auto research.
The researchers looked at safety data from the Insurance Institute for Highway Safety, Consumer Reports, JD Power, and the National Highway Transportation and Safety Administration.
24/7 Wall St. examined the safety ratings and identified models that received a "marginal" or "poor" rating in two of four categories.
The cars with the worst scores typically got poor grades in rollover and rear impact tests. Six of the seven models received a score of "marginal."
According to 24/7 Wall St., the seven most dangerous cars are:
2. Chevrolet Colorado Crew Cab
3. Mazda CX-7
4. Mazda CX-9
7. Suzuki SX4
Strangely, the safety ratings aren't hurting sales because all models are up from last year.