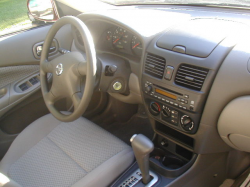 — Planning on buying a new vehicle soon? According to a new study from the nonprofit Ecology Center, you should check the vehicle's toxic chemical ratings right along with the car's safety ratings.
The chemicals, found in plastics and other parts of the interior, have been linked to a wide range of health problems such as allergies, birth defects, impaired learning, liver toxicity, and cancer.
"Research shows that vehicle interiors contain a unique cocktail of hundreds of toxic chemicals that off-gas in small, confined spaces," said Jeff Gearhart, research director at the Ecology Center. "Since these chemicals are not regulated, consumers have no way of knowing the dangers they face. Our testing is intended to expose those dangers and encourage manufacturers to use safer alternatives."
Researchers tested over 200 of the most popular 2011 and 2012 vehicles for chemicals that "off-gas" from the steering wheel, dashboard, armrests and seats.
These chemicals contribute to "new car smell" and considering the average American spends more than 1.5 hours in a car every day, researchers are concerned that toxic chemical exposure inside vehicles could be a major problem.
The problem is worse in the summer when air temperatures of 192 F and dash temperatures up to 248 F can increase the concentration of Volatile Organic Compounds (VOC's) and break other chemicals down into more toxic substances.
"Automobiles function as chemical reactors, creating one of the most hazardous environments we spend time in," Gearhart said.
However, all is not lost.
According to available research, automakers have steadily improved their ratings. According to the Ecology Center, the best vehicles today have eliminated hazardous flame retardants and PVC.
The most improved automakers in terms of average ratings for their vehicles are VW, Mitsubishi, and Ford. These represent improvement from the 2009/2010 models to the 2011/2012 models.
Diamler AG and Volvo had overall declining average scores from 2009/2010 to 2011/2012.
And the winners and losers are...
The 10 Best
The 10 Worst
2012 Mini Cooper S Clubman
2011 Mitsubishi Outlander Sp