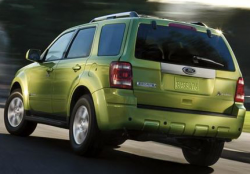 — The North Carolina Consumers Council has petitioned the National Highway Traffic Safety Administration to investigate model year 2005-2012 Ford Escape vehicles for an alleged defect in the throttle body.
According to the petition, drivers have complained about their vehicles stalling or the engine surging. Diagnostic work performed on the vehicles showed one vehicle with a throttle body stuck open, and another stuck closed. Escape owners say the incidents occurred numerous times.
The petitioner says that Ford has "released a number of technical service bulletins that cover a wide range of vehicles and throttle body issues related to hesitation and stalling, including 08-18-2 and 09-23-5." The petition will be evaluated by the government.
The Escape has recently faced increased scrutiny because of a series of problems and recalls.
In September, 2012, Ford recalled the 2013 Escape because antifreeze could leak due to a freeze plug becoming dislodged. Ford said the leak could be enough to possibly cause an engine fire from the coolant hitting and evaporating on the engine.
In July, Ford told owners of the 2013 Ford Escape to immediately park their vehicles because a fuel line could split and leak, which could cause the SUV to go up in smoke. That recall specifically targeted the same 1.6L engine.
Again in July, Ford recalled the 2013 model year Escape because of carpet padding problems. Ford said the problem could cause your foot to hit the side of the brake pedal when trying to switch from the gas pedal to the brake pedal.
Ford also took a hit in late July when 420,000 model year 2001-2004 Escapes were recalled because of sticking throttles.