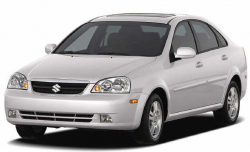 — Suzuki is recalling certain model year 2004-2006 Forenza and model year 2005-2006 Reno vehicles manufactured from September 23, 2003, through March 7, 2006.
Suzuki said resistance due to poor contact between the terminals of certain wires can create heat that can melt the splice pack used to connect the power circuit wires for the headlamps.
This can cause problems with low/high beam headlamp function, including making the headlights go out.
"Low beam lights went out while I was driving home," one 2005 Forenza owner told CarComplaints.com. "I used high beams and fog lights to get home. Short in wiring behind instrument panel has me concerned about possible fire and real damage to the vehicle."
The recall should begin in September, 2012. Suzuki will notify owners and dealers will reconnect the affected wires with two heat-shrink crimps.
Owners can contact Suzuki at 714-996-7040 and refer to campaign number NU.