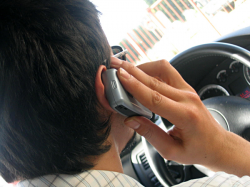 — In another example that technology is trying to trump common sense, engineers at Rutgers University have invented a cell phone application that senses whether a driver is using their phone.
Instead of a driver simply letting voice mail take the call instead of taking a chance of running off the road, Rutgers engineers and researchers at Stevens Institute of Technology believe their phone app could reduce driving distractions.
Researchers created a way for a cell phone to work with a car's sound system to distinguish between the driver and passenger.
By measuring the amount of time that sound takes to travel from each speaker, the cell phone app can determine whether the phone is on the driver's side or the passenger's side of the car.
If the technology believes you are in the passenger seat, there are no restrictions on the phone.
According to Rutgers, a cell phone generates high-pitched beeps and transmits them to the car stereo over a Bluetooth connection. Beeps come out of left and right speakers at different intervals, and the phone uses its microphone to listen for the beeps it just sent.
If beeps from the left speaker arrive fractions of a second faster than beeps from the right speaker, it means the phone is likely in the driver's hands. A car with four-channel audio can perform the check more accurately, and may one day even be able to distinguish between front- and back-seat phone users.
If the system senses you are driving, it can silently forward incoming calls and texts to message boxes.
It could also respond automatically to a call or text message, saying that the owner is currently driving and will reply later.
Additionally, it could offer to put a call through if a caller indicates the matter is "urgent."
For outgoing calls, the app could disable texting and make placing certain calls less difficult, perhaps by offering a short list of frequent contacts shown as large on-screen buttons.
Researchers didn't say how distracted a driver would be while trying to figure out how to make a call that the app was trying to block.