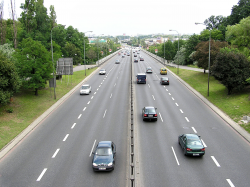 — If you drive in Orlando or Memphis, double-check your seat belt because those two cities have been named the most unsafe cities to drive in the United States.
The new report from the Morbidity and Mortality Weekly Report, a publication from the U.S. Centers for Disease Control and Prevention, lists the top 10 most unsafe cities to drive in, along with the top 10 safest cities.
And the winners and losers are:
10 Most Unsafe Cities to Drive In:
Orlando, Fla.
Memphis, Tenn.
Glendale, Tenn.
Miami, Fla.
Las Vegas, Nev.
Birmingham, Ala.
Sacramento, Calif.
Tampa, Fla.
San Antonio, Texas
Jacksonville, Fla.
10 Safest Cities to Drive In: (Very small statistical difference between these cities)
Boston, Mass.
Buffalo, N.Y.
Cleveland, Ohio
Hartford, Conn.
Newark, N.J.
Plano, Texas
Providence, R.I.
Salt Lake City, Utah
Santa Ana, Calif.
St. Paul, Minn.
Although certain cities seem to be more dangerous than others, a recent study showed that driving in a city is probably safer than driving in a rural area.