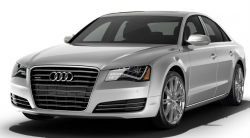 — Volkswagen is recalling over 5,000 cars for problems ranging from exploding sunroofs to leaking gas lines.
Audi S6 and S7
About 3,500 model year 2013-2014 Audi S6 and S7 cars equipped with 4.0 liter engines are being recalled because of gas lines that could leak. Volkswagen says a problem during manufacturing could cause the lines to fall apart over time.
Audi discovered the problem after receiving complaints about a fuel smell in the cars.
The gas line will need to be replaced by dealers. Volkswagen will begin the recall by early November, 2013. The recall number is 20U6/L8.
Audi A8 and S8
Owners of over 1,000 model year 2013-2014 Audi A8 and S8 cars will need to visit their dealers to tackle a problem with exploding sunroofs.
Volkswagen says the cars were manufactured March 12, 2013, through July 15, 2013, and have a standard sunroof.
Complaints about exploding sunroofs recently made the news when the U.S. government opened an investigation into the Kia Sorento for the same problem.
Volkswagen says all they can do is replace the sunroof glass panel.
The recall is currently underway. With questions, contact Audi at 800-822-2834 and refer to recall number 60B6/1L.