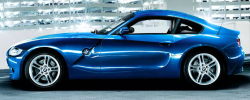 — A federal judge in California says a proposed class-action lawsuit against BMW can proceed concerning alleged defective wheels on model year 2007-2012 BMW Z4 cars.
Plaintiff Barry Jekowsky filed the lawsuit after complaining the original wheels on his leased Z4 started to crack and split. Jekowsky claims BMW refused to cover the problem under their four year/50,000 mile warranty, even though the alleged problem was noticed before the first 20,000 miles.
According to the lawsuit, Jekowsky spent over $2,000 to replace two tires and "V Spoke" Style 296 wheels on his 2011 BMW Z4 after discovering dangerous cracks in the alloy wheels. Jekowsky claims BMW stopped using alloy wheels in England and agreed to refurbish the wheels as long as there was no evidence of driver-inflicted damage.
If it can be shown the wheels cracked because of a manufacturing defect, BMW would be in violation of their warranties. It's possible a problem might exist with the metal alloy used to make the wheels, although that would be for a jury to decide.
Judge Jeff White said he will allow the implied warranty claim to proceed because as long as it's possible the alleged problem occurred during the warranty period, Jekowsky doesn't need to prove a manufacturing defect did indeed occur during the warranty period.
The U.S. District Court of the Northern District of California case is Barry Jekowsky v. BMW of North America LLC.