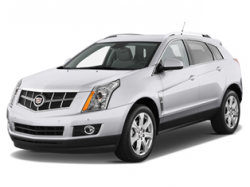 — This has got to be one of those recalls where GM administrators are shaking their heads. GM is recalling over 27,000 model year 2013 Cadillac SRX vehicles because the wheels could fall off.
GM says the wheel nuts weren't tightened properly and could come loose, although there apparently have been no incidents of that happening yet.
The SRX models involved in the recall have 18-inch wheels and include almost 19,000 vehicles in the U.S., 913 in Canada, and over 7,300 outside of those areas. The vehicles were manufactured January 31, 2012, through March 18, 2013.
The recall is expected to begin by June 3, 2013. GM dealers will rotate the tires and make sure the wheel nuts are tight.
Owners can contact GM at 800-521-7300 and give them recall number 13116.
This is the second recall of the 2013 Cadillac SRX in the past two months. In March, GM recalled the SRX for transmission software problems.