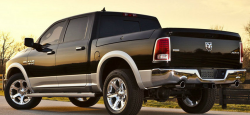 — Chrysler owners can't catch a break. Just a month ago, Chrysler recalled over 213,000 vehicles that included 10 different models.
Add another 300,000 to the list after Chrysler announced they were recalling the 2013 Dodge Ram 1500, 2008-2012 Jeep Wrangler, 2005-2010 Jeep Grand Cherokee, and the 2006-2010 Jeep Commander.
Jeep Grand Cherokee - Jeep Commander
A whopping 295,000 of those vehicles are 2005-2010 Jeep Grand Cherokee vehicles manufactured February 11, 2004, through March 9, 2010; and 2006-2010 Jeep Commander vehicles manufactured January 31, 2005, through March 10, 2010.
Chrysler says a transfer case electrical failure may cause an unintentional shifting of the transfer case into the neutral position. It wouldn't take much for these vehicles to roll away if accidently shifted into neutral.
Chrysler said the recall should begin in June, 2013. Dealers will update the software of the drive controller which governs the transfer case.
Owners can contact Chrysler at 800-247-9753 and give them recall number N23.
Jeep Wrangler
The recall of 5,440 model year 2008-2012 Jeep Wrangler vehicles is a bit different because it includes only right-hand drive vehicles, most used by the postal service.
Chrysler says the driver front air bag could fail in a crash because of a broken electrical circuit in the airbag clockspring wiring assembly.
The affected vehicles were manufactured February 1, 2007, through October 10, 2011.
Chrysler dealers will replace the clockspring and add a steering wheel dust shield during the recall, which should get underway in May, 2013.
Direct questions to Chrysler at 800-247-9753 and give them recall campaign number M31.
Dodge Ram 1500
Last on the list is 2013 Dodge Ram 1500 vehicles that were manufactured June 25, 2012, through December 12, 2012.
Chrysler says a problem with the windshield defrosting system could affect about 500 vehicles. Chrysler engineers observed a fault code linked to coolant-system function.
An investigation revealed one component had evidence of corrosion that compromised system performance.
The automaker says the coolant bypass valve may stick in a position that does not allow coolant to flow into the heater core and cause the defroster to malfunction.
The Ram 1500 recall should begin in June, 2013. Chrysler dealers will replace the coolant valves and update the calibration.
Ram 1500 owners may contact Chrysler at 800-247-9753 and refer to recall number N25.