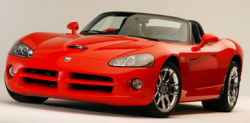 — Expensive muscle cars are nice to own, but they're not immune to problems and federal investigations.
According to the National Highway Traffic Safety Administration, safety regulators are taking a close look at the 2005-2006 Dodge Viper after reports of failures of the rear suspension knuckle.
Although there have been only two complaints, both incidents caused the vehicles to crash.
In one report, the owner of a 2006 Viper was traveling at 30 mph when his car suddenly went out of control.
As the Viper was sliding at an angle, the car went airborne, up an embankment, and finally stopped in a wooded area. The driver suffered lower back injuries.
In the second report, a 2005 Viper slammed into a concrete divider after the driver lost control of the vehicle while traveling 50 mph.
The government investigation begins with this preliminary evaluation of the alleged defect. This could be followed by an engineering analysis, a recall, or the case could be closed if investigators believe a safety defect does not exist.