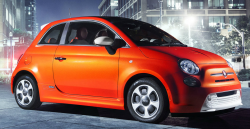 — Electric cars have grown in the U.S. consumer market and although they might not have a huge engine sitting in front, there are still plenty of things that can go wrong.
Following an internal investigation into why a 2013 Fiat 500e wouldn't drive, Chrysler is recalling almost 500 of those cars because the half-shaft joints can loosen. Not only can this create a lot of noise, but it can keep the car from moving.
Chrysler says the investigation found that 156 vehicles had repairs on the transmission and gearbox and when things were rebuilt, the original half-shaft fasteners were used. Those fasteners were not made to be reused.
According to the National Highway Traffic Safety Administration, the affected cars were manufactured December 16, 2012, through August 13, 2013.
The recall should be underway. Fiat dealers will replace the fasteners attaching the half-shaft inboard joints.
With questions, contact Fiat at 888-242-6342 and give them recall number N51.