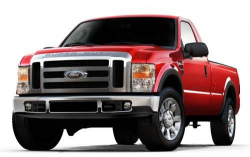 — The National Highway Traffic Safety Administration has opened a preliminary investigation into 340,000 model year 2008 Ford F-250 and F-350 Super Duty trucks after complaints about a complete loss of steering.
The government is looking into the possibility the steering gear box failed internally and caused drivers to lose control of their trucks.
One complainant said they crashed into a parked vehicle because there was no way to control the truck.
Another driver said their truck traveled off the road at 35 mph. Their Ford dealer said the problem occurred because of a problem in the steering gear box.
The preliminary investigation will determine if an engineering analysis should be ordered or if there is enough evidence of a problem to order a full recall.