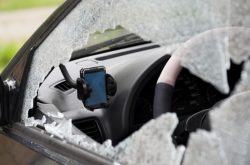 — Apparently city street gangs have grown tired of stealing and cruising around in Cadillac Escalades, typically the number one target of thieves.
The Highway Loss Data Institute, an organization funded by auto insurers and insurance associations, said the Ford F-250 has the highest theft rate of any 2010-12 vehicle.
The Institute says anti-theft technology in the Escalade has helped drop it from first to sixth place in the ranking of vehicles with the highest rates of insurance claims for theft. It's the first year since 2003 the Escalade hasn't landed first place.
Overall, theft rates are down because of ignition immobilizers which keep a vehicle from being hot-wired. That feature is standard in 89 percent of 2012 models, but fewer pickups than cars or SUVs have that feature.
However, the feature is standard in model year F-250 trucks, which leaves researchers asking why the four-wheel-drive F-250 crew cab has a theft rate six times the average for all vehicles.
Researchers theorize the open truck bed might be a clue because insurance claims could pile up from theft of items in the bed. The Institute said their data tracks insurance claims, and a claim doesn't have to mean the whole vehicle was reported stolen.
Highest and Lowest Insurance Theft Claims For 2010-12 Passenger Vehicles
Highest Rates
Lowest Rates