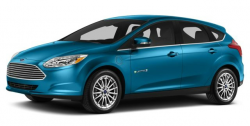 — Following a federal investigation into why Ford Focus Electric cars would take an unrequested break in the middle of the road, Ford is recalling almost 2,500 of those cars for problems with the transmission software.
The recalled cars are model year 2012-2014 Focus Electric vehicles manufactured September 15, 2011, through August 23, 2013.
The National Highway Traffic Safety Administration looked at 171 reports indicating loss of power to move the vehicle because of a loss of powertrain torque.
According to Ford, Powertrain Control Module (PCM) software problems can cause drivers to receive a red triangle indicator and the message "Stop Safely Now" in the instrument panel. The car will stop moving but the brake and steering systems will continue to operate normally. Shutting down the Focus and restarting will fix the problem, at least until it happens again.
The recall should begin by the end of November, 2013. Ford dealers will reprogram the power control module and try to make sure your Ford Focus Electric keeps moving.
Owners can contact Ford at 866-436-7332 and give them recall number 13S09.