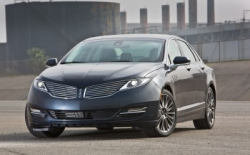 — Ford is recalling over 465,000 vehicles worldwide because of complaints about gas tank leaks. The recalled vehicles include the 2013 Ford Explorer, Fusion, Flex, Interceptor Sedan, Interceptor Utility, Lincoln MKZ, MKS and MKT, and the Ford Taurus.
Ford said the affected vehicles might have a fuel delivery module in the tank that could leak. The recall includes 420,000 vehicles in the U.S,, Canada, and Mexico. The other vehicles are outside of those areas.
Ford said they don't know of any accidents or injuries related to the problem.
It doesn't look like the vehicles will be repaired any time soon because Ford said all the replacement parts won't be available until September.
Two Bonus Recalls!
In addition to the gas tank recall, Ford announced two other recalls:
Ford will recall certain 2013 Fusions because the steering gears might be missing an internal retaining clip.
Further, Ford is recalling about 500 model year 2013 Lincoln MKZ sedans with engine block heaters. The cords on the heaters could crack and expose the wiring and cause all kinds of havoc.
Ford said both recalls should begin this month.