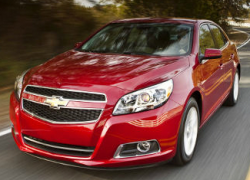 — General Motors has issued two separate recalls for their Chevy Malibu from model years 2013 and 2014. About 57,000 cars are affected by the recall, with one problem that could cause an interior fire.
2013 Chevy Malibu Wiring Harness
GM says almost 15,000 cars could be at risk of an interior fire because of a problem with the location of a wiring harness.
The cars are equipped with an 8-way power adjustable front seat with a wiring harness that can rub against the seat frame. With enough movement across the harness, exposed wires could cause a short circuit and make the seat move around on its own or fail to work at all. A short could also cause electrical problems such as flickering lights.
If an exposed wire strikes the seat frame just right, sparks could cause the seat to catch fire.
GM says the affected Malibu cars were manufactured October 25, 2011, through June 29, 2012. GM dealers will inspect the wire harness and repair it, if needed.
2014 Chevy Malibu Defroster Problems
Just in time for winter, GM says the windshield defroster could fail in over 42,000 model year 2014 cars because simply turning the key can disable the heating and air conditioning (HVAC) controls.
If the problem occurs, the HVAC mode will remain in the latest mode set prior to the vehicle being shut off. If the windshield defroster was not previously on, it cannot be turned on until ten minutes after the vehicle is turned off and then restarted. That's not exactly a pleasant thought when you're shivering in the cold.
GM dealers will update the electronic climate control module software to keep you warm and able to see through the windshield.
Both of the above Malibu recalls should begin in early December, 2013. Affected owners can contact GM at 800-521-7300 and refer to recall number 13380 for the 2014 Malibu recall, and number 13342 for the recalled 2013 Malibu vehicles.