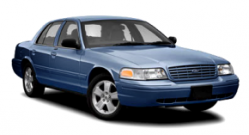 — The National Highway Traffic Safety Administration (NHTSA) has expanded their investigation into steering problems in model year 2005-2008 Ford Crown Victoria vehicles. The investigation was opened after complaints the upper and lower shafts of the steering column separated.
The mechanical connection between the steering wheel and rack and pinion steering assembly consists of the steering column and an upper and lower intermediate shaft. Any separation will cause a loss of steering in the affected vehicles.
Ford says the total number of vehicles possibly affected could top 195,000, many of those used by police agencies across the country.
If you drive one of these vehicles, be aware of any looseness, binding, or noise in the steering system while making a turn. Those symptoms could indicate the lower steering column shaft bearing is displaced and could experience a complete separation of the upper to lower steering column shafts.
Considering the investigation has been expanded, there is a good possibility a recall will eventually be ordered.
CarComplaints.com will keep you posted on any further developments.
Related Reading: