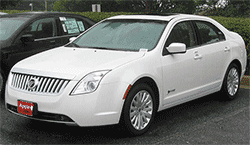 — Following a petition by the North Carolina Consumers Council, the National Highway Traffic Safety Administration (NHTSA) has opened a preliminary evaluation of certain Ford vehicles for problems related to the electronic throttle body.
According to government documents, owners report their vehicles experienced numerous incidents of the engine stalling or surging. Safety regulators said the problem might be related to contaminated printed circuit boards that could cause the vehicle to go into "limp home mode" and lose power.
Authorities believe complaints alleging engine surge are most likely related to engine RPM fluctuations at low vehicle speeds or idle as the control system engages to prevent engine stall.
The Ford Vehicles Being Evaluated
The affected vehicles include the 2009-2010 Ford Escape/Escape Hybrid, 2010-2011 Ford Fusion, 2009-2010 Mercury Mariner/Mariner Hybrid, and the 2010-2011 Mercury Milan.
This preliminary evaluation isn't a recall, but could lead to one if authorities find enough evidence to indicate a safety hazard.
Related Reading: