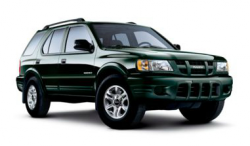 — Isuzu is recalling almost 9,000 model year 2003-2004 Rodeo and Axiom, and 2003 Rodeo Sport vehicles because of suspension corrosion problems. As with other recent recalls, this Isuzu recall applies only to vehicles that were originally sold in, or are currently registered in the following states:
Maine, New Hampshire, Vermont, Massachusetts, Rhode Island, Connecticut, New York, New Jersey, Pennsylvania, Delaware, Maryland, the District of Columbia, West Virginia, Ohio, Indiana, Michigan, Illinois, Wisconsin, Minnesota, Iowa, Kentucky and Missouri.
Isuzu says the affected vehicles can experience such severe corrosion near the forward mounting point bracket the bracket could detach from the frame. The bracket attaches to the left or right rear suspension lower link and the problem is so bad that in some cases, Isuzu will buy the vehicle from you.
The recall is expected to begin in mid-December, 2013. Isuzu dealers will inspect the rear suspension lower link bracket area.
For vehicles in which little or no corrosion is found, the area will be treated with an anti-corrosive compound. A reinforcement bracket will be installed in vehicles where corrosion has damaged the rear suspension lower link bracket and affected its connection to the vehicle frame.
In a case where the reinforcement bracket won't be enough to fix the problem, Isuzu will offer to repurchase the vehicle for an amount based on the Kelley Blue Book "Private Party" price.
All services will be provided free of charge for vehicles that are 10 years old or less. For vehicles older than 10 years, Isuzu will still fix everything, but only if the vehicle is brought to an Isuzu dealer within 12 months of when owner notifications were issued. Waiting beyond 12 months means paying for the repair yourself.
Owners of the affected Isuzu Rodeo, Rodeo Sport and Axiom can contact Isuzu at 800-255-6727.