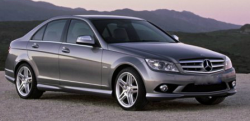 — The National Highway Traffic Safety Administration has opened an investigation to find out if 218,000 model year 2008-2009 Mercedes-Benz C-Class cars have rear light problems.
The government has received 21 reports that allege problems with the brake or turn signals. Some of the failures were reported in only one side of the car, while others report both rear lights went out.
Many owners said they smelled smoke and saw burn marks in the trunks. One owner saw flames shooting from the lamp connector when the trunk was opened.
The investigation will try to determine if the process should be upgraded to an engineering analysis or if the vehicles need to be recalled.