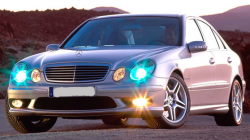 — Mercedes-Benz is under government scrutiny after complaints about possible fuel leaks in model year 2003-2006 Mercedes-Benz E55 AMG vehicles.
According to the National Highway Traffic Safety Administration, owners complain of a strong gas odor inside and outside of their vehicle, especially after putting gas in the tank.
The federal Office of Defects Investigation tracked down 350 reports related to the problem, with 116 reports specifically about the E55 AMG.
Mercedes-Benz recalled vehicles in 2008 because of a fuel filter module and although the current AMG models use a different fuel pump, they do share some of the same fuel system components. One of those components is the fuel tank.
This federal engineering analysis will try to determine the source of the problem and decide if a recall should be ordered.