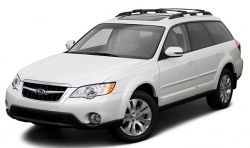 — Owners of Subaru Outback and Legacy vehicles must be turning red after news their vehicles are once again the focus of a safety recall.
According to the National Highway Traffic Safety Administration, Subaru is recalling what is estimated to be more than 200,000 vehicles because the brake lines could rust and leak fluid.
The affected vehicles are 2005-2009 Outback and Legacy vehicles built from December, 2003, through April, 2009.
Subaru says salt water could hit the brake lines through a space in the fuel tank protector. Because salt water is used primarily in certain states due to snow and ice, the recall affects only those vehicles formerly, or currently registered in the following states:
Connecticut, Delaware, Illinois, Indiana, Iowa, Maine, Maryland, Massachusetts, Michigan, Minnesota, Missouri, New Hampshire, New Jersey, New York, Ohio, Pennsylvania, Rhode Island, Vermont, West Virginia, Wisconsin and the District of Columbia.
There is no word as to when the recall will begin. Once the recall is underway, Subaru dealers will check for leaking brake fluid and will rustproof the area with anti-corrosion wax if the lines aren't leaking.
Any lines that are leaking will be completely replaced and then covered with anti-corrosion wax.
Owners can contact Subaru at 800-782-2783 and refer to recall number WQG-43.
Read More About the Subaru Outback and Legacy Soap Opera: