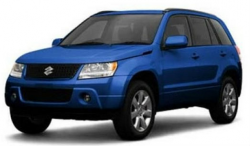 — Suzuki is recalling almost 194,000 model year 2006-2011 Grand Vitara and 2007-2011 SX4 vehicles over air bag problems.
Suzuki says the front passenger air bag could deploy when it shouldn't, primarily when a child is in the seat. A sensor in the front seat is used to recognize if the seat is occupied by an adult or a child. If the sensor fails, the air bag could deploy based on an adult sitting in the seat, even though a child is in the seat.
Simply using the seat on a regular basis can cause the electrical circuit to disconnect.
The recall should start in October, 2013. Suzuki says parts are limited, so owners will initially be notified of the recall and asked to make an appointment with their dealer only if their air bag warning light is on.
If the dealer believes the warning light is on because of a failed sensor, the front passenger seat cushion assembly will be replaced.
Once enough parts are available, owners who haven't had their vehicles repaired will be sent a second letter asking them to make an appointment with their dealer.
Owners can contact Suzuki at 800-255-2550 and refer to recall number VD.