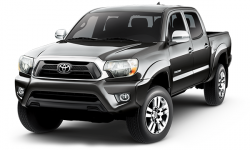 — What happens when a parts manufacturer doesn't maintain their equipment properly, at least good enough to make decent parts? Ask Toyota, because they are recalling 4,000 model year 2013-2014 Tacoma 4-cylinder pickup trucks for that very reason.
In the affected trucks, engine valve springs made by one of two suppliers could develop cracks and break. Toyota says improper maintenance of the manufacturing equipment used to make the parts is solely to blame.
If a spring does break, expect a strange noise and rough-running engine. In the worst case scenario, the engine could fail while you're driving.
The National Highway Traffic Safety Administration hasn't released a schedule of when the recall will begin. Toyota will contact owners by mail, but there is no indication of what dealers will do to fix the spring problem.
If you're a victim of bad springs made by bad manufacturing equipment, contact Toyota at 800-331-4331.