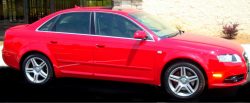 — It's normal for a car to use oil, but owners of the Audi A4, A5 and Q5 say their oil consumption has been far from normal. Now Audi and Volkswagen have agreed to settle a class-action lawsuit about that very subject.
The lawsuit alleges about 126,000 Audi vehicles have defects in the 2.0L turbocharged engines that caused the vehicles to guzzle oil. The affected vehicles are the 2009-2010 Audi A4 and Audi A5, and the 2011 Audi A4, Audi A5, and Audi Q5 with the engine code of CAEB.
Audi owners--including owners of model years not named in the lawsuit--complain their cars drink oil at rates no car should.
"I only owned the car a week prior to break down. Audi dealer in PA fixed the car, and it needed a quart of oil to get home 800 miles. the car drank oil, 1 qt per 1000 miles. Audi told me "that's how they are" and it was disturbing that it always needed oil. This is THE WORST CAR I HAVE EVER OWNED!!!" - 2009 Audi A4 owner, Ventura, California
"The Audi/VW 2.0T engine needs to be recalled now for excessive oil consumption. The first complaint is that per their spec, an owner can use 8 quarts of oil between the recommended oil changes (do the math). No way should any car manufacturer be legally allowed to say that 1 quart per 1000 mi (or 600 mi per my manual) is normal for a 2009 car with moderate mileage." - 2009 Audi A4 owner, Tampa, Florida
Although Audi agreed to settle the case, the judge said the automaker raised important defenses, including:
All cars use oil and any actual oil consumption issues have been disclosed in the vehicles' owner's manuals.
The engine warning light comes on in advance to warn the oil is running low, so plaintiffs would have a tough time showing the alleged defect is a safety issue.
Oil consumption is a maintenance issue, therefore plaintiffs cannot establish an actionable defect exists.
Under the settlement agreement, current owners or lessees who have not already paid to have repairs made will be entitled to a replacement of the crankcase pressure regulating valve, front crankshaft seal and front crankshaft bolt. Additionally, the engine control module software will be updated to match the new part(s).
The agreement also gives owners and lessees an extended warranty of 4 years/50,000 miles to 8 years/80,000 miles (whichever occurs first) to cover any repair needed to correct excessive engine oil consumption.
Audi will also reimburse any affected owners of the 2009-2011 Audi A4, Audi A5 and the 2011 Audi Q5 for parts and labor on any previous repairs made for oil consumption problems.
Additionally, the settlement provides attorneys' fees of $2.3 million and expenses of $100,000, plus $2,500 to each of the five lead plaintiffs.
The Audi oil consumption lawsuit was filed in the U.S. District Court of the Central District of California - Ali Asghari, et al. v. Volkswagen Group of America Inc, et al.
The plaintiffs were represented by the law firms of Capstone Law APC, EcoTech Law Group PC, and Strategic Legal Practices APC.
Read what owners say about the Audi cars named in the oil consumption lawsuit: